Graduate School
Applying to Graduate School
Sections listed below:
Application Process – Sample Timeline
*varies by institution
1st Semester Junior Year

Join Research Group

Look for Schools
2nd Semester Junior Year

Review Requirements/Deadlines

Study for GRE/Register
Summer

REU

Take the GRE

Verify Deadlines
1st Semester Senior Year

SOP/Research Statement

Letters of Recommendation

Apply 5-8 Schools
2nd Semester Senior Year

Interviews

Admission Offers Begin

Summer

Final Admission Offers

Other Application Deadlines

Departmental Visits

Your Decisions!

Fall

Program Begins
Deadlines
Deadlines vary by program and by institution. Always double check & make your own timeline.
Application fees are often $60-$80 and fee waivers can often be requested directly from the university Admissions office.
Ph.D.

Most Deadlines are December 1, December 15

Other Deadlines range November – February

Very few Deadlines in the Summer months

M.S.

Most Deadlines are March 7

Some Deadlines are July (up to two weeks before the program begins)
Personal and Research Statement
Rather than a Personal Statement, Chemistry programs tend towards a Statement of Purpose (SOP).
This essay acts to introduce yourself to the Admissions Board by telling them what you've accomplished and what you plan to accomplish.
Have friends and family, mentors, STEM and non-STEM majors read
*Proof Read everything, then Proof Read again!*
Statement of Purpose: Topics to mention - Why do you love chemistry. Why are you committed to your chosen career path? Try to sound like yourself.
Research Experience: If you have a minimum amount of experience, mention why do you want to partake in this experience, what are you long term career goals? Describe your prior research experience. What type of science do you want to study? Look up faculty - are there specific research groups you would like to join?
*The Admissions Committee wants to see, You Know What You Want*
Letters of Recommendation
Letters of recommendation are an important part of any application. Your recommenders will be able to put a human element into your application by describing your personal and academic strengths and weaknesses. They will be able to compare your abilities to the abilities of all the other students whom they have taught. For many people reading applications, letters of recommendation are more important than your grade point average. Ask professors who know you well academically; ask them in person.
Ask your recommenders for letter at least six weeks before the deadline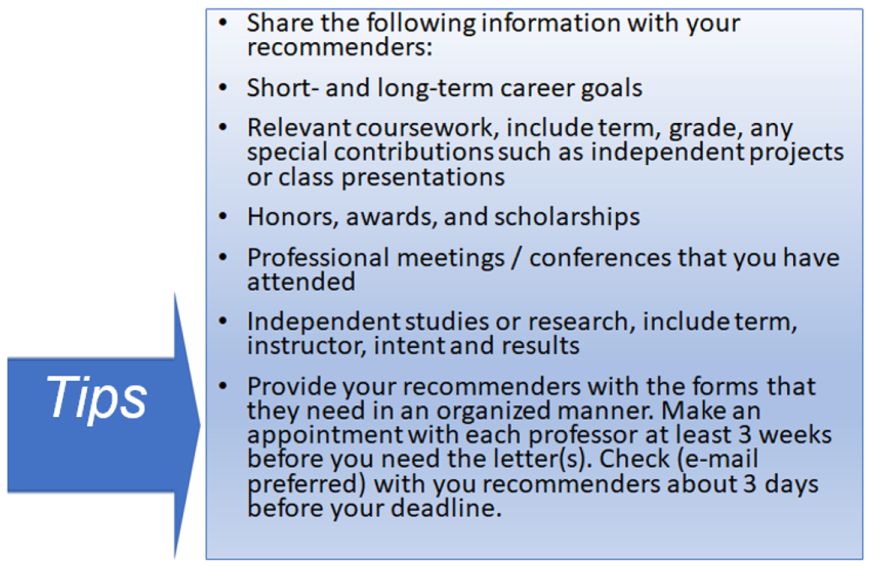 The Graduate Record Examination (GRE)

Get it done now – if you are unhappy with your score, there will be plenty of time to retest.
Exams should be scheduled and taken at least a few weeks before application deadlines.
While the General test is continually proctored, the Subject test is only administered a few times a year – so plan ahead.
Chemistry students should take both the General GRE and the Chemistry Subject GRE. The GRE composes of three sections:
Verbal Reasoning - Measures the ability to analyze and draw conclusions from discourse and reason from incomplete data, understand multiple levels of meaning, such as literal, figurative and authors interest, and summarize text and distinguish major from minor points, understand the meanings of words, sentences and entire texts, and understand relationships among words and among concepts
Quantitative Reasoning - Measures the ability of understand, interpret and analyze quantitative information, solve problems using mathematical models, and apply the basic concepts of arithmetic, algebra, geometry and data analysis
Analytical Writing - Measures critical thinking and analytical writing skills, including the ability to articulate and support complex ideas with relevant reasons and examples, examines claims and accompanying evidence.
Resources
Note: TOEFL or IELTS scores may be required (for non-exempt international students)
The Interview
An initial interview may or may not occur before you are admitted to a graduate program, however, there are times when a committee has interest in an individual application and requests an interview. For example, a university may have a strong theoretical chemistry community and seek out candidates who expressed interest or research experience in said field. An interview platform may be a phone call/Skype/Zoom/In-Person so dress professionally and be confident! Here are some common questions to prepare:
*Either way - Get Ahead - Be Able to Speak to Yourself and Your Science*
1. What did you like most about your previous research experience?
The interviewer is looking for what you bring to the table, what you will gain yourself, and that you are an independent problem solver.
This is the chance to use your elevator speech. An elevator speak is a "personal sales pitch" and explains what you do, what you want to do, and your contributions/strengths in about 30 seconds
Research should be summarized, clear, and technical jargon kept to a minimum.
2. What did you like least about your previous research experience?
The takeaway should be positive for example, "the instrument broke so many times but I became an expert at fixing it."
Personal anecdote about a time you succeeded despite some failure in your research.
3. What kind of problems do you hope to work on during your Ph.D. studies?
Be familiar with their research and faculty and personalize what you want to work on at their university.
Interest shows a willingness to learn, be excited!!
4. What long-term career plans?
Your long-term goal should connect to the program you are applying to.
Why are you pursuing graduate school? What experiences make this the right choice for you?
5. Do you have questions?
Finally! This is your opportunity! Prepared questions for the interviewer show interest, and some general questions may be.

Do you encourage an interdisciplinary approach?
Do you encourage rotations?
What is the average number of publications a student has upon completing their Ph.D./MS?
How many classes do students TA on average?

This will tell you if they have grant money or if you need to work.
* Now, in attacking these questions it is important to ask yourself, "Why are they asking this question? What characteristic or experience do they want to see?" Prepared answers should be about 1 minute in length and include bullet points of items you'd like to discuss. An outline will keep you on track and always remember to end on a positive, excited note!
Admission Offers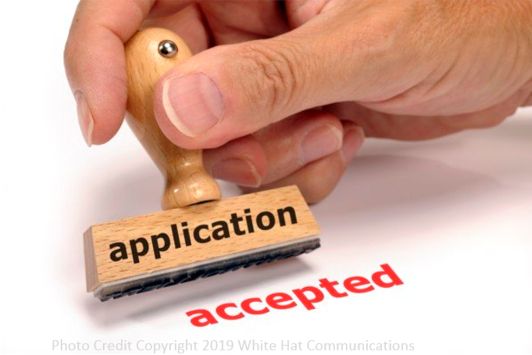 You will typically be notified by email the final status of your application between February – April. Some programs offer admission on a rolling basis, which means you may be on a waitlist throughout the admission process.
And Your Decisions!
If you are offered admission, typically the summer before the program begins you will need to tell the school if you accept or reject, this will involve signing their proposed financial assistantship package. May 15 is the typical deadline.
Other Recommendations:
Commitment to research, joining a research team early can help you decide if graduate school is right for you.
Strong classroom training
Experience making things happen and getting things done
Specific details of strengths in the letters
A sense of what kind of research likely to do
"Grit" = Passion and Perseverance
"Grow" your mindset
Growth Mindset - "Desire to Learn" - Analyze mistake, accept challenge, ability to learn new things, inspired by others success
Fixed Mindset - "Desire to Look Smart" - Unchangeable aptitude, avoid challenges, avoid failure, give up easily
Make a list of graduate programs that fit your interest and goals
Ask friends, family for feedback on your Statement of Purpose or Personal Statement - Proofread everything!
Be aware of deadline!
Be strategic about your recommenders, ask those who know you best
Tell your recommenders to expect an email or link
Original Content Created By: Ashley Knapp, Cesar Quintero (2019)