Medical School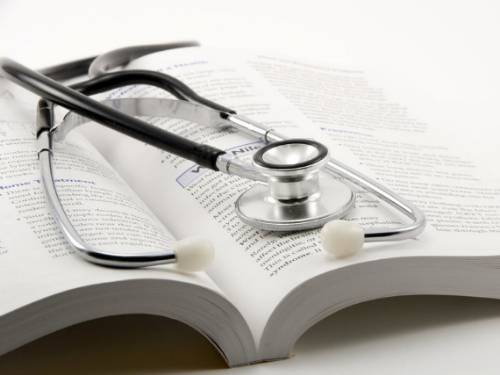 For more information, consider joining the American Medical Student Association (AMSA) club at CSUCI. They routinely go over all of the information provided in this webpage, in addition to having suture clinics, free practice MCATs, guest physician lecturers, and much more.
What is an MD?
Medical doctors (MDs) are physicians who work in hospitals, clinics, medical centers, or private practices.
MDs treat people for illnesses and injuries. They also prescribe medications, order diagnostic tests, diagnose ailments, and record patient information.
Doctors of medicine often have a specialization such as general practice, gynecology, dermatology, pediatric medicine, orthopedics, or many others. All surgeons are medical doctors.
Complete 4 years of Medical School
Complete a Residency (3 - 8 years)
Obtain a license by passing the U.S. Medical Licensing Examination (USMLE)
Earn a specialty certification (optional) increases employment opportunities
What is a DO?
A Doctor of Osteopathy (DO) is a license to practice medicine in the United States. The certification is equivalent in terms of scope of practice compared to the more common degree of Doctorate of Medicine (MD).
DOs currently constitute 11% of all practicing physicians in the US. This degree is recognized in 65 countries.
A DO takes 4 years of education and follows a rather similar path to its counterpart of MD. The only addition is learning Osteopathic Manipulative / Manual Medicine (OMM) that sets DO apart from MD. Further information about OMM can be found on the OMM website.
After you finish 4 years of medical school, you will apply to residency. Starting in 2020, DOs will apply and be in the same pool of applicants as MDs and all residency programs in the country will be open to both.
The main website for all things related to DO is the American Association of Colleges of Osteopathic Medicine.
Prerequisites
Applying to medical school is more than just MCAT scores and great GPA's. You want to be able to show off some personal qualities that make you stand out among your peers and in front of a professional committee. While most of the following are not required, medical schools prefer to see a wide range of skills.
Volunteer Experience

Successful medical school applicants usually have a minimum of six months of volunteer experience in hospitals, clinics, hospice, pharmacies or any type of health care setting. Medical School Headquarters website has a great guide to help set apart your application. Click here for the Ultimate Guide to Volunteering for Premeds.

Work Experience

Any work experience lasting longer than six months in medical fields such as; medical scribes, EMTs, shadowing doctors, CNA's, etc. Medical schools like to see you getting experience in what your future job would be.

Academic

Research projects are a great way to boost your application as it shows a great aptitude for science. It isn't required, but it is a great way to prepare for medical research you'll endure during medical school. Any type of prior medical research experience will greatly enhance your application.
Studying abroad shows great personal growth, and can be considered one of the most important things to highlight yourself apart from other applicants. Click here to find a great guide on how to use study abroad to your advantage.
TA/Tutoring shows the ability to teach and communicate clearly. It can also show that you are very confident in subjects useful to medical sciences and that you belong explaining and diagnosing in medicine.

Co-curricular activities

Diverse interests show a wide range of skills so when it comes to your application don't be afraid to list any

Awards, honors or publications
Minor degrees
Clubs
Sports played or hobbies
Keep in mind that these can all demonstrate diversity and leadership qualities. So when you are applying to think about all the personal traits that can really make your application attract attention.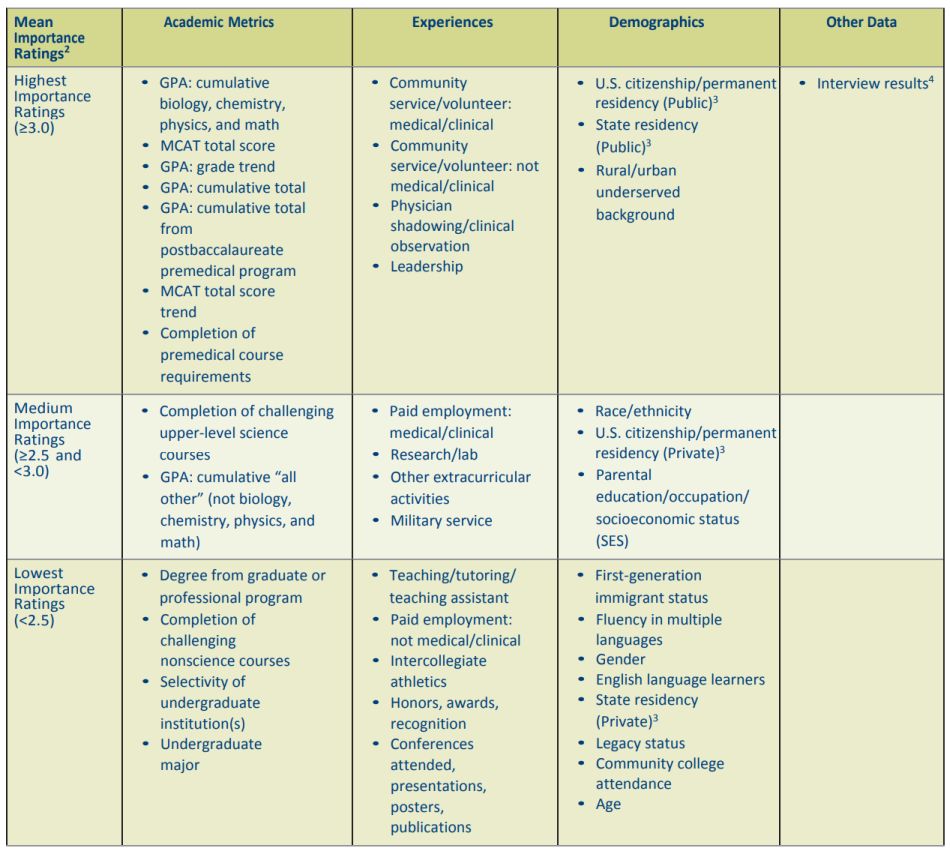 Table is from the AAMC medical school guide (PDF, 4.8 MB).
Useful Links
MCAT

The MCAT is a standardized multiple-choice exam taken at a testing facility on a computer that is required to medical admission which has the for following sections:

Chemical and Physical Foundations of Biological Systems (59 questions, 95 minutes)
Critical Analysis and Reasoning Skills (53 questions, 90 minutes)
Biological and Biochemical Foundations of Living Systems (59 questions, 95 minutes)
Psychological, Social, and Biological Foundations of Behavior (59 questions, 95 minutes)

The exam is registered for through the AAMC website, it costs $315 to register for the exam.
More can be found out about taking the MCAT exam.
Here are tips from the AAMC about registering and scheduling the MCAT.
The AAMC developed a guide based on 2019 data on the MCAT and how it plays into the admission process (Using MCAT® Data in 2019 Medical Student Selection).
Applying to Medical School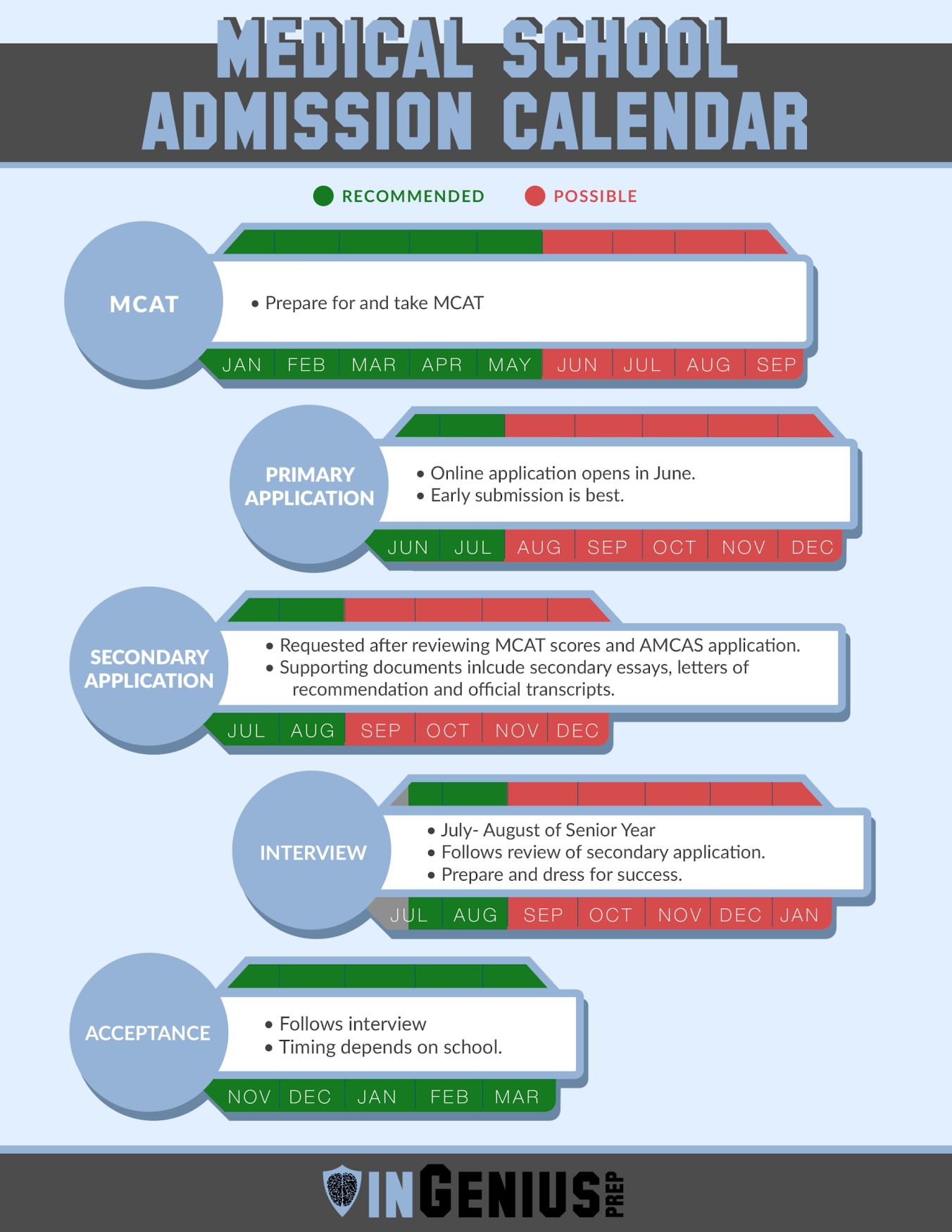 Applying to MD Programs
Applying to most MD programs uses the American Medical College Application Services (AMCAS). There is a processing fee of $170 for the first medical school, then each subsequent medical school will be $38 afterward. There are fee assistance programs for paying for the AMCAS which can be found on the Association of American Medical Colleges (AAMC) website. The guide for applying through the AMCAS can be found on the AAMC website. Applying to Texas MD programs utilizes the Texas Medical and Dental Schools Application Service.
Sections on AMCAS:
Sections 1-3: Your background information: This includes name, birthday, schools attended, citizenship, ethnicity and race, and more
Section 4: Coursework: This is all the courses you have taken including the grades you received in each course.
Section 5: Work and Activities: This is where any work experience, extracurricular activities, awards, conferences, and etc goes.
Section 6: Letters of Evaluation: Here you will create letter entries so AMCAS can accept your letters of recommendations. See the AMCAS guide for more information
Section 7: Medical School: This is where you will select the medical schools you plan on applying to.
Section 8: Essays: This is where you will upload your personal statement. This essay will answer the questions: Why have you selected the field of medicine? What motivates you to learn more about medicine? What do you want medical schools to know about you that hasn't been disclosed in other sections of the application?
Applying to DO Programs
The application process for DO school takes place on the American Association of Colleges of Osteopathic Medicine website (AACOM). To open up a free account for application to DO medical schools, use this link for the application. Applications to DO school follows similar steps and requirements as an MD school. The only difference is that you require a letter of recommendation from a licensed DO practitioner to be eligible for admission in the DO program. Matriculant data for all DO schools for the years 2016 and 2017 can be found here: 2016 and 2017. Past trends can be accessed through the Matriculant Data.
Life as a Medical Student
Medical Schools usually separate them into two parts: preclinical and clinical. During your pre-clinical studies, you will learn science training which will include basic medical concepts, the structure of the body, diseases, diagnoses, and treatment concepts. The clinical portion involves clinical rotations, which will give basic instructions and hands-on experience with patients in major medical specialties. Every curriculum is different and can be found on each medical school websites. To become a licensed physician there are have to take the United States Medical Licensing Examination which includes 3 steps. Step 1 covers sciences needed for medicine. Step 2 measures clinical knowledge and skills. Step 3 is the final exam.
Year 1

Typical this year focuses on the course work of Gross Anatomy, histology, pathology, and biochemistry.

Year 2

This is the year you'll learn about the handful of diseases you'll encounter.
During this year you will take Step 1. This an 8-hour exam that is considered one of the most important for matching into your residency program. It focuses on the curriculum learned during the first two years.

Year 3

This year marks the beginning of your clinical work, which will include a series of core rotations all medical students must have. These typically include internal medicine, family medicine, general surgery, psychiatry, neurology, pediatrics, ob/gyn, and emergency medicine.
During this year, Step 2 is taken similar to step 1, but it is testing on third-year knowledge heavily focusing on the internal medicine clinical rotation.

Year 4

During this year you will begin sub-internships are rotations performed at other institutions anywhere in the country.
You will apply to residency programs using the Electronic Residency Application Service. Residencies are selected by both applicants and programs submitting a rank list which runs through an algorithm. This selects the residency programs you go to.

Residency

The Match Process is a system by which residency candidates and residency programs simultaneously "match" to fill first-year and second-year post-graduate training positions accredited by the Accreditation Council for Graduate Medical Education (ACGME). The National Resident Matching Program (NRMP) instituted and maintains The Match system. Guide on matching can be found here.
Residency programs usually last from three to eight years and cover general medical principles and specific medical specialties.
Residents perform a variety of extensive duties, such as conducting physical exams, taking patient histories, attending conferences and interpreting lab information
Helpful Links
Developed by: Michael Itrich, Roger Pattani, Richard Pineda, and Meagan Swede